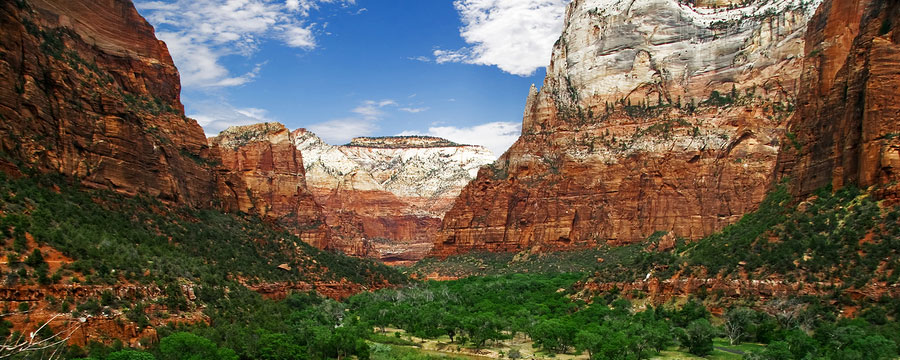 Zion National Park
The main entrance to Zion National Park is just 45 minutes from downtown St. George. Taking the shuttle is a great way to tour the Park, especially since most private cars are not allowed into the canyon while it runs. The Zion Park shuttle runs from late March until late October and operates daily from 6:30 a.m. until about 9:30 p.m.
The shuttle will take you on a six mile scenic drive into Zion Canyon, you can get on and off as often as you like to enjoy the view. Private cars are allowed in the canyon only during the winter months.
Many of the hikes in Zion National Park are located along this short section of road in the canyon. A few of the most popular hikes are Weeping Rock (.5 miles), Temple of Sinawava Walk (2 miles), and Emerald Pools (2.4 miles).
Don't forget to take water, snacks, sunscreen, sunglasses, and your camera. Be sure to wear good walking shoes. The shuttle will pick you up at the Zion Park Visitors Center just inside the gates of the Park. On your way back, be sure and take some time to tour the Visitors Center, and the Zion Human History Museum, which offers an outstanding movie (free of charge) as well as some interesting displays about Zion's history.
When you exit the canyon you will want to visit the Zion Canyon Giant Screen Theater, which shows the epic Kieth Merrill film "Zion Canyon: Treasure of the Gods" on a six story high IMAX screen.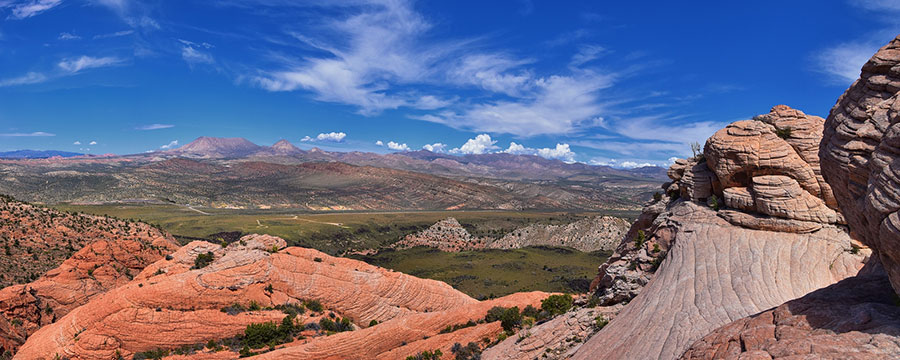 Snow Canyon State Park
Snow Canyon State Park is a 7,400-acre scenic park quietly tucked amid lava flows and soaring sandstone cliffs in a strikingly colorful and fragile desert environment. Majestic views and the subtle interplay of light, shadow, and color dancing across canyon walls evoke strong emotional responses from visitors.
Located in the 62,000 acre Red Cliffs Desert Reserve, established to protect the federally listed desert tortoise and its habitat, the park offers opportunities for outdoor enthusiasts of all ages. Activities include hiking, nature studies, wildlife viewing, photography, camping, ranger talks and junior ranger programs. There are more than 38 miles of hiking trails, a three-mile paved walking/biking trail and over 15 miles of equestrian trails.
Geology
Transported by wind more than 183 million years ago, tiny grains of quartzite sand covered much of what we now call Utah. These sand dunes, up to 2,500 feet thick, eventually were cemented into stone. Burnt orange to creamy white in color, Navajo sandstone, the predominant rock in the park, is what remains of the ancient desert sand sea. Over time, water has cut and shaped the sandstone to form canyons. Approximately 1.4 million years ago, and as recently as 27,000 years ago, nearby cinder cones erupted, causing lava to flow down these canyons, filling them with basalt. This redirected ancient waterways, eventually carving new canyons. Look up to see lava-capped ridges that were once canyon bottoms. Removal of rocks and minerals is prohibited.
Plants and Animals
Snow Canyon is home to a diversity of plant and wildlife species not occurring elsewhere in the state. Located at the intersection of the Mojave Desert, Great Basin Desert and Colorado Plateau, the park averages 7.5 inches of rainfall a year. Vegetation includes desert adapted species such as creosote bush, narrow leaf yucca, sand sage, blackbrush, scrub oak and desert willow. If spring and fall conditions are right, wildflowers light up the park with a showy display of blooms. Wildlife watchers may see coyotes, kit foxes, quail, roadrunners, leopard lizards, gopher snakes and canyon tree frogs. Thirteen sensitive species protected by state and/or federal law are found within the park. They include peregrine falcons, desert tortoises and gila monsters. Plant and wildlife checklists are available at the park headquarters for a nominal fee. Removal of plants and wildlife is prohibited.
Park History
Created in 1959, Snow Canyon has a long history of human use. Anasazi Indians inhabited the region from A.D. 200 to 1250, utilizing the canyon for hunting and gathering. Paiute Indians used the canyon from A.D. 1200 to the mid-1800s. Mormon pioneers discovered Snow Canyon in the 1850's while searching for lost cattle. Modern-day the canyon has been the site of Hollywood films such as Butch Cassidy and the Sundance Kid, The Electric Horseman, and Jeremiah Johnson. Originally called Dixie State Park, it was later renamed for Lorenzo and Erastus Snow, prominent pioneering Utah leaders.
Opened to the public as a state park in 1962.
Park Elevation:  3,100 to 4,100 feet
Seasons/Open Hours:
Year-Round – 6:00 am to 10:00 pm. No holiday closures.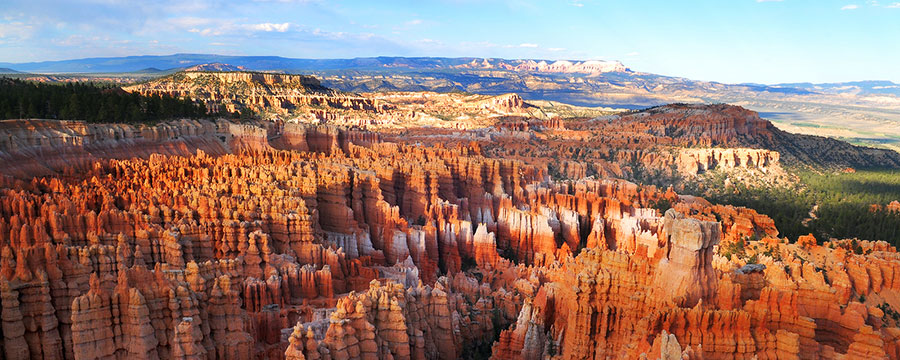 Bryce Canyon National Park
Bryce Canyon is not a single canyon, but a series of natural amphitheaters or bowls, carved into the edge of a high plateau. The most famous of these is the Bryce Amphitheater (pictured below), which is filled with irregularly eroded spires of rocks called hoodoos. Perhaps every visitor to the park will spend at least some time marvelling at its four main viewpoints, all found within the first few miles of the park: Bryce Point, Inspiration Point, Sunset Point, and Sunrise Point. Between April and October a shuttle service is operated in this area of the park to reduce congestion.
Other viewpoints are found all along the park's 18-mile main road which travels from park's only entrance in the north along the plateau rim to its highest elevations in the south (over 9,000 ft / 2,743 m). Hiking trails explore the forests of the plateau, connect between viewpoints along the rim of the Bryce Amphitheater, and wander through the hoodoos below.
Deepen your understanding of the park by attending a ranger program, whether it be a daily geology talk, rim walk, evening program, astronomy program, or full moon hike. Be sure to ask about our Jr. Ranger Program at the visitor information desk. Concessionaire-provided horseback rides are another way to experience Bryce Canyon during the summer season. There are activities for everyone!
Bryce Canyon offers two campground sites (one in winter) and lodging is available at the Bryce Canyon Lodge during the summer season. During winter, hotel rooms are available in the park at the Sunset Hotel.
Explore the park map to begin familiarizing yourself with the layout of this special place.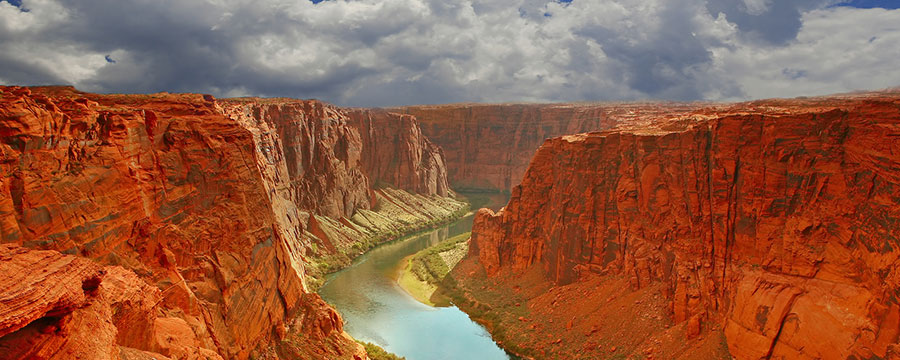 Grand Canyon National Park
The Grand Canyon is one of the most well-known National Parks in America, and it's only three hours away from Saint George. Most people think that the only thing to do at the Grand Canyon is to take in the breathtaking view of the mile deep canyon, but there's much more to experience than just sightseeing! Not only are there a great deal of trails present in the canyon itself, but activities around the canyon are plentiful. There's an activity for any time of the year, be it horseback riding, fishing, biking, ATV and 4X4 tours, aerial tours, rock climbing and rappelling, camping, or river running.
Visit their site for more information on activities, directions, and park info: nps.gov/grca/index.htm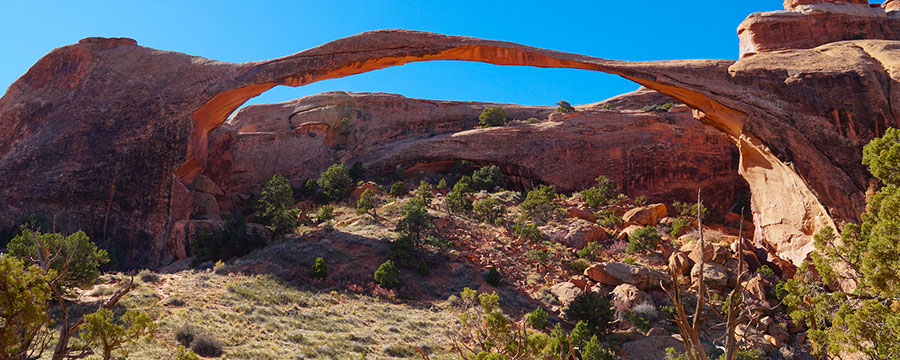 Arches National Park
Arches National Park is a wonderland of red rocks and blue sky. The red rock landscape at Arches might feel timeless, dream-like, or even other-worldly. People have documented over 2,000 natural stone arches within park boundaries. You can see arches, towers, pinnacles, and balanced rocks from the paved park roads. Take a hike, and you can see even more.
To learn more about the park, join us on a ranger program. Check out the visitor center, or download a variety of publications. Take a look at the links below to plan your visit.
Arches is a very popular national park. Traffic congestion between March and October can quickly bring you back to reality. Bring your patience, visit nearby attractions, or plan a visit during slower seasons. Planning ahead can help make your visit as enjoyable as possible.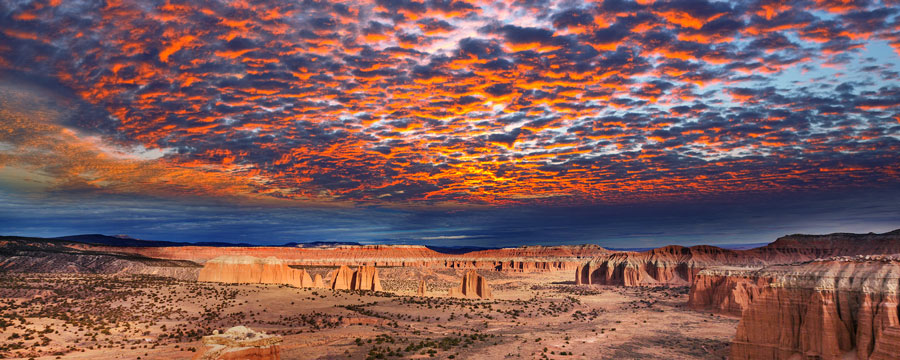 Capitol Reef National Park
From Spring to Fall, the park offers several ranger programs at no charge. These include talks, evening programs at the campground amphitheater and occasional astronomy programs. Check the visitor center for details.
Hey kids! Learn about the park and earn a badge. Kids of all ages can participate in the park's Junior Ranger program. Booklets are available at the visitor center. Other activities may be available For Kids during the summer season.
The Fruita Schoolhouse is a restored and refurbished historic structure located on Utah Highway 24, 0.8 miles (1.3 km) east of the visitor center.
The Merin-Smith Implement Shed, 0.5 miles (0.8 km) south on the Scenic Drive, offers a recorded message about life in a Mormon pioneer community.
The Gifford House Store and Museum, 1 mile (1.6 km) south on the Scenic Drive, is typical of rural Utah farm-houses of the early 1900s and is open from March 14 (Pi Day) to October 31 (closing date can vary). Handmade sales items are available including daily fresh baked pie!
A picnic area near the visitor center provides tables, fire grills, restrooms, drinking water and shade trees.
Capitol Reef offers a variety of Outdoor Activities, including lots of great hiking trails.
Bicycles are restricted to maintained roads open to vehicular traffic. A handout available at the visitor center identifies and describes recommended routes.
Fishing is permitted in the Fremont River with a valid Utah fishing license.
Our Trip Planner can help you to prepare for your visit.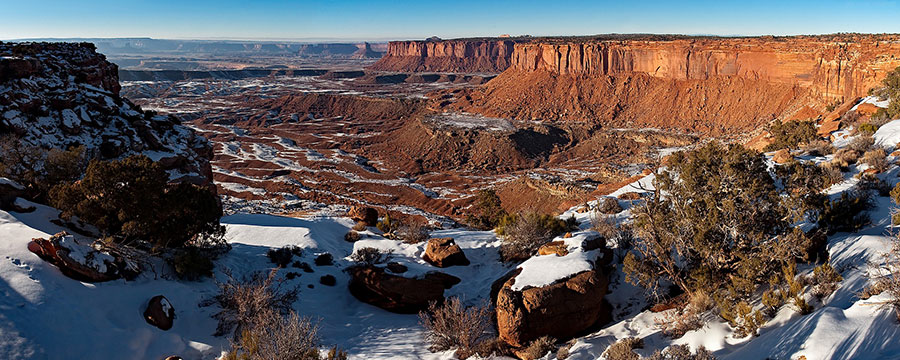 Canyonlands National Park
Canyonlands National Park is open year-round. Canyonlands is Utah's largest national park, with 337,598 acres of land and water ready to be explored. The Green and Colorado rivers split the park into three major districts: Island in the Sky, The Needles, and The Maze.
There are no roads within the park that cross the rivers to directly link any of Canyonlands' districts. Though they may appear close on a map, traveling between districts requires two to six hours by car. Most people find it impractical to visit more than one or two districts in a single trip.
Canyonlands is a remote area with few services. You should plan on bringing everything you'll need during your trip. Check this page for the basic information about the park.